Presents:

Flamenco Master Workshops
& Juerga (Improv Jam)
with
La Conja
"The Fire of Flamenco"
& Juanito Pascual
"One of America's Greatest Flamenco Guitaritsts"
Sunday, December 10th, 2006

The Raff Dance Studio
14 Harvard Avenue, Suite #3, Allston, MA

Click here for:
§ Workshop & Event Schedule
§ Event Co-Sponsor Details
§ Artist Biographies
§ Event Flyer (11"x8.5")
§ Event Banner (255x252 pixels)
§ Event Newsletter

REGISTER NOW!
Workshop Prices:
$20/1, $35/2, $50/3
Juerga Cover: $10
Student/Instructor/Senior/Group Discounts
REGISTER via the form on the left or (617) 642-1444
---
12:00 - 1:15 pm
Beginner & Advanced Beginner Flamenco (La Conja)
This class will cover the basics of Flamenco Dance:
Posture of the upper body
Arm movements and hands
Footwork & Rhythm
1:30 - 2:45 pm
All Levels Palmas & Cante (La Conja & Juanito)
This is a great class for anyone interested in FLAMENCO!
We will cover the different rhythms (compass).
Also the technique for a clear sound for the Palmas (hand clapping).
Vocal warm up for the Cante (singing).
We will work on Tangos letras (verses).
Students should bring to class a note book.
A tape recorder to record the letras. (No video recording.)
3:00 - 4:15 pm
Intermediate/Advanced Flamenco (La Conja)
This class is for students who have a vocabulary of Flamenco movements, and an understanding of the variety of rhythm forms.
Class will start with strong warm up of the whole body and advance technique for the footwork. We will also cover a piece of Choreography (Bulerias)
7:00 - 9:30 pm
Juerga - Flamenco Improv Jam
featuring improvised performances by La Conja &
Juanito Pascual, and a screening of Jenny Alexander's
short film of a performance by La Conja & Juanito.
Spectators, and dancers, singers & musicians of all
levels are welcome & encouraged to join the jam!
Light Spanish tapas buffet
(with kosher vegetarian, chicken & fish ingredients), soda & water!
4:30 - 9:30 pm
Flamenco Buzz Gift Shop
Gorgeous items will be for sale, including 100% silk men's & women's polkadot scarves, handmade jewelry with a flamenco flavor, castenet and shoe bags, flamenco journals and greeting cards.
20% of your purchase will help support the BCCA!
It doesn't get any better than that!!!

---
This Event Is Generously Co-Sponsored by
Flamenco Buzz
"All the news you'll ever need about flamenco - updated daily!"
Planet Flamenco
"From Tierra del Fuego to the Yukon, the only site on the web dedicated exclusively to flamenco in the Western Hemisphere."
Mojitos Latin Lounge & Nightclub
"Raising the Standard of Latin Entertainment!"

---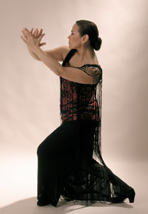 La Conja, one of Flamencos most versatile artists, has developed a substantial reputation for her startling ability and fire as a dancer, singer and a choreographer. Charles Jurrist of Daily News described her as a mesmerizing singer and demon dancer, and indeed, her dancing illustrates a show of force which is Flamencos essence. Given her multicultural background (an American born of Egyptian parents with a Turkish surname) it is no wonder La Conja has so naturally melded both Arab and Indian musical disciplines into her work. Her masterful syntheses illustrate not only the unique and progressive directions of Conja's art form but also the essential Flamenco core. She weaves flamenco music and dance together with original music and movement to reveal classic forms. As such she has been widely acclaimed, both nationally and internationally, for her unique music and dance genre.
Together with her company Mimbre y Vareta, she toured India extensively in 1998 with acclaimed Indian dancers and singers in Flamenco Natyam. She also performed at the prestigious Guggenheim Work and Process Series, in a mosaic of Indian and Flamenco dance. In collaboration with New York's World Music Institute she created an inventive project, Andalucian Legacies," with such Arab music greats as the Ali Jihad Racy Ensemble. The unique collaboration was lauded at the shows premieres in Los Angeles, New York, Ashland, Oregon, and Philadelphia.
She has toured nationally and internationally with such artists as Jose Molina and Jose Greco featured as solo dancer, and has also appeared at Lincoln Center with Sarita Montiel.She recorded La Reina del Nilo and was featured Flamenco dancer and singer in the musical Matador produced by CBS Records.
As a choreographer her works have been premiered at The Teatro Albeniz in Madrid, Spain, The Joyce Theater in New York, Dance Theater Workshop and the Lincoln Center Out-of-Doors Concert Series.
La Conja has been awarded three New York State Council on the Arts grants for her choreography. And given her singular choreographic style, she has been commissioned repeatedly throughout the US to give master classes. And the acclaim has been remarkable in places such as: UCLA, Chicago's Old Town School of Folk Music, New York University Tisch School of the Arts, University of New Mexico, & Hamilton College.




Jonathan "Juanito" Pascual has been called "one of the greatest American flamenco guitarists." He is a multifaceted guitarist, composer, and teacher who has performed in styles ranging from jazz and blues, to classical guitar, klezmer, as well as flamenco. Based in Boston, Juanito tours frequently throughout the U.S. and has played for most of the country's major flamenco dance companies including those of Omayra Amaya, Ramon de los Reyes, Jose Greco II, Carlota Santana, La Repompa de Málaga, Inés Arrubla, and Susana di Palma. He has performed in major festivals around the country including the 2003 Tanglewood Jazz Festival, (broadcast live on National Public Radio), Festival Flamenco Internacional in Albuquerque, Yale's International Festival of Arts and Ideas, and New York City's Fringe Festival. Juanito has performed as a soloist and as leader of his own ensemble to sold out audiences throughout the East Coast. He was a featured performer in Boston's Museum of Fine Arts as a featured artist in their Art of the Guitar concert series in 2000 and has returned annually to sold out audiences. Juanito was also the opening for Michel Camilo at Cambridge's Sanders Theater in 2004. Since 2005 he has been the director for the Annual Summer Flamenco Institute at New England Conservatory in Boston. He has been seen and heard nationally on a variety of TV and radio programs including NPR's "The World" and "Here and Now". He holds a Bachelor of Music degree in Contemporary Improvisation from New England Conservatory where he graduated with honors in 1997, and was Second Prize winner in the 1996 New England Classical guitar Competition.
Juanito first picked up the guitar at age eleven discovering flamenco music at age fifteen. This led him to Spain the following year where he was immersed in the flamenco culture, studying with teachers including Adam del Monte, Parilla de Jerez, Manolo Sanlucar, and El Entri. While at NEC Juanito's teachers included classical guitarists David Leisner and Eliot Fisk and jazz guitarist Gene Bertoncini. Most recently, he has been mentored by the Boston based maestro Dimitri Goryachev.
In addition to a busy performance schedule, Juanito is very active as an educator, both as private instructor in the Boston area, as well as lecturer/performer, giving frequent presentations and workshops at colleges and schools throughout the country. As a teacher he is devoted to the pursuit of guitar as a means to reveal each individual's unique musical and personal potential, and to sharing the beauty, spirituality, and expressive power of the art of flamenco.
In 2003 Juanito completed his first CD "Cosas en Común" of all original flamenco compositions. The work has received critical acclaim and frequent radio play in the US. and abroad. In addition to touring with his group Juanito collaborated on a chamber opera by Osvoldo Golijov which had its debut at Tanglewood in 2003 featuring soprano Dawn Upshaw. He has also co-composed and performed his first film score, for an animated short film about Southern Spain by Karen Aqua and Joanna Priestley. Currently Juanito is working on a number of exciting projects including his second solo CD and a duo project with guitarist Grisha Goryachev.